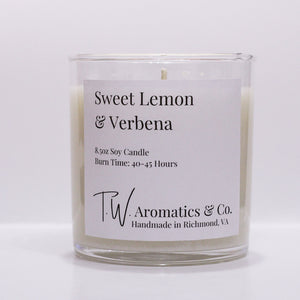 This scent can be described as fresh, open and clean. The lemon is not overpowering and makes a good burn after cleaning up. 
Candles can be burned in spaces such as the Living Room, Home Office, Kitchen, Entryway, Bedroom and/or Bathroom. They provide a pleasant aromatic experience and complements the decor of your home and personal spaces. 
Scent Notes Include: Lemon, Sugar, Verbena, Light Musk
Burn Time: 45+ Hours 
Product Info: 8.5oz Hand Poured Soy Candle in a Glass Libbey Tumbler that is crafted in Richmond, VA.
Product Use Info: 
First Burn: Most Important and creates a "memory" for the candle. 
Ensure when the candle is burned that it melts all the way to the edge of the container and creates a full melt pool. 
Burn in 3 to 4 hour increments to ensure you get the most of the burn time.
Trim wick to 1/4 inch in height and keep the wick clean
Do not burn near a window/drafty area or near items that can obstruct the flame. 
Stop burning when there is about 1/4 inch in height of wax remaining.
Treasured Find!
I love these candles and the service of this company has been outstanding!
In Love
I'm in love with this scent. This candle made me go an buy other scents and I'm glad that I did.