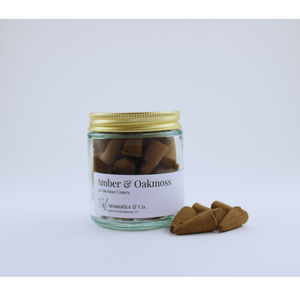 Experience the relaxing scent of amber and oakmoss with this 40-count set of incense cones. Made with premium ingredients, each cone offers a warm fragrance that will instantly transform any space. Perfect for any setting, enjoy the rich aroma of these amber and oakmoss incense cones.
Cones are in a clear glass jar with a gold lid and label.  Jar can be repurposed (Label can be removed). 
Instructions: 
Light tip of cone with lighter or match. 
Allow the tip to burn 5 - 10 seconds and then blow/fan out the flame. 
The tip should be orange and begin to burn. You may have to light the tip and extinguish it more than one time. 
Warning: 
Burn cones within sight and in/on a proper holder (heat resistant surface/holder). 
Do not burn unattended and keep from drafty areas. 
Keep away from flammable objects, children and pets. 
Once lit, do not touch the burning end.
If the surface where the cone is burned is not treated, the surface can become stained.