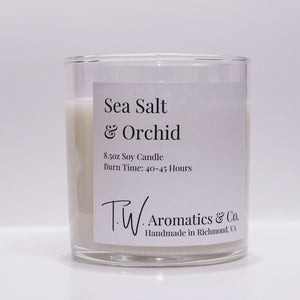 Sea Salt and Orchid provides an crisp, calming and floral aromatic experience that is peaceful for you and your personal spaces. Ideal for spaces such as living room, bedroom and Kitchen. Makes good gift for a teacher, friend or bridesmaid. 
Scent Notes Include: Sea Salt, Jasmine and Wood
Burn Time: 40 - 50 Hours

Size/Weight: 8.5oz in 12oz Libbey Tumbler

Hand made in small batches of Soy Wax with a Cotton Wick in a Glass Tumbler.

Shipping Weight: 1lb 3oz
Sea salt + orchid = good stuff!
I am a sucker for a good candle, especially one that's local. This one is a lovely, soft, summery scent that makes me happy. Treat yourself! You won't regret it!