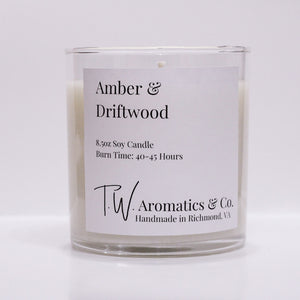 The touch of power really blends well with the earthy scent. Candles can be burned in spaces such as the Living Room, Home Office, Kitchen, Bedroom and Bathroom. They provide an aromatic experience and complements the decor of your home and personal spaces. 
Recommended Burn Time: Winding down, End of the Day, or relaxing day at home. 
Scent Notes Include: Citrus, Sandalwood, Amber, Dark Musk, Cedar, Powder
Burn Time: 45+ Hours
Product Info: 8.5oz Hand Poured Soy Candle in a Glass Libbey Tumbler that is crafted in Richmond, VA. 
Care instructions are included with the product when purchased. 
My favorite scent ever
This scented candle is amazing! The scent is so pleasing and fills the room (and whole level) beautifully.
Amber and Driftwood - Hand Poured 8.5oz Soy Candle